Entries tagged as life
Posted by Raj Shekhar in My take on life
Monday, December 19. 2016
My dear,
In the midst of hate, I found there was, within me, an invincible love.
In the midst of tears, I found there was, within me, an invincible smile.
In the midst of chaos, I found there was, within me, an invincible calm.
I realized, through it all, that ...
In the midst of winter, I found there was, within me, an invincible summer.
And that makes me happy. For it says that no matter how hard the world pushes against me, within me, there's something stronger - something better, pushing right back.

Truly yours,
Albert Camus
Defined tags for this entry:
life
Posted by Raj Shekhar in My take on life
Tuesday, November 29. 2016
From The Intercept's article "Donald Trump Will Be President. This is What We Do Next.", this section captures the most dominant thought I have:
Be not downhearted.

Don't give up. As bone-chilling as this moment is, it also proves that no one's in charge and just about everything in America's up for grabs. After all, Bernie Sanders looks like he's appearing in a role where the casting notice read: "Male, 70s, white, must look exactly like the caricature of a socialist from 1980s right-wing agitprop." Yet from a standing start he almost beat Hillary Clinton.

Young Americans are extremely progressive, so much so that Frank Luntz, the GOP's top pollster, says it should "frighten every business and political leader." To some degree we just need to engage in a holding action until they're running things.

Despite having no resources other than lots of cell phones with the Twitter app, Black Lives Matter has done more to blunt police brutality than anyone in the past 40 years. There should be classes taught around the world about how they're doing it.
However, there is a section of people who might be harmed by the administration. There is no easy way to predict what the targets would be and how they will be targeted.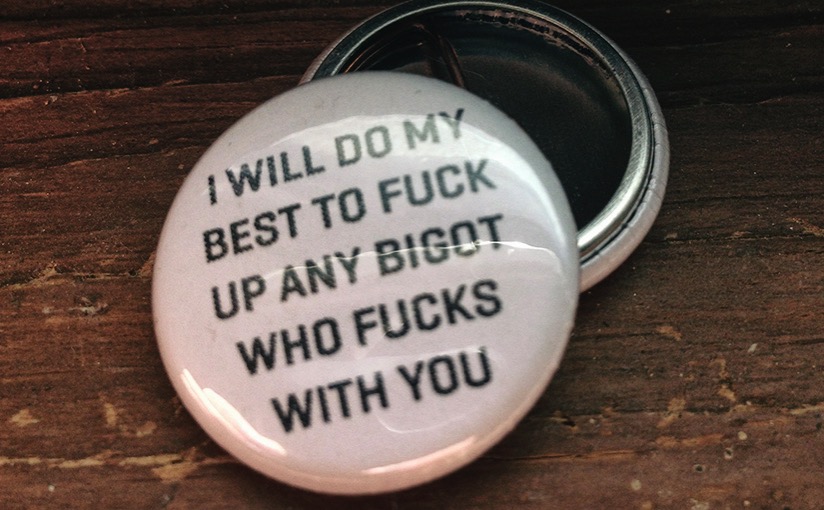 Posted by Raj Shekhar in My take on life
Monday, July 6. 2015
Billy: What the hell is wrong with freedom? That's what it's all about.

George Hanson: Oh, yeah, that's right.

That's what's it's all about, all right.

But talkin' about it and bein' it, that's two different things. I mean, it's real hard to be free when you are bought and sold in the marketplace.

Of course, don't ever tell anybody that they're not free, 'cause then they're gonna get real busy killin' and maimin' to prove to you that they are.

Oh, yeah, they're gonna talk to you, and talk to you, and talk to you about individual freedom. But they see a free individual, it's gonna scare 'em.
— Easy Rider
Defined tags for this entry:
life
Posted by moblog in My take on life, today
Tuesday, August 13. 2013
On hipsters
The difference between a hipster and a geek
This is the major difference between a hipster and a geek: When a hipster sees someone else grooving on the thing they love, their reaction is to say "Oh, crap, now the wrong people like the thing I love." When a geek sees someone else grooving on the thing they love, their reaction is to say "ZOMG YOU LOVE WHAT I LOVE COME WITH ME AND LET US LOVE IT TOGETHER."
Hipsters On Food Stamps, Part 1 has a line that precisely captures what I think about obsessively posting pictures of food
There's plenty of attention to style, to identity, and regression to our most primitive instinct: eating, fetishized.
On buying
An Interview With Craigslist's Notorious Google Glass Hater
I hate commodity fetishization. I don't mean that in the Marxist sense. I mean the process of deriving of pleasure from the purchase of commercial goods above and beyond the actual value or utility of the product.
Posted by Raj Shekhar in My take on life, work
Wednesday, March 21. 2007
Yesterday I had to go to Chennai for my US visa interview. Chennai is a really sucky city, it sucks even worse than Bangalore

. Here is an account of the process.
Documents required
The vfs-usa.co.in site has a list of documents that you require to bring along with you. If you filled the visa form at the vfs-usa.co.in site, you would have received a printout of the forms D156, D157 and an appointment letter mentioning the data and time of your visa interview.
I had packed in all the required documents the night prior to my departure to Chennai. Due to security concerns you are not allowed to carry mobile, CDs, music player or any electronic device into the consulate building. However, you are allowed to carry books and one polybag with all your documents inside. These people are really serious about security - do not bring any stuff which is prohibited. You will not be allowed to carry it inside no matter what.
Since books were not on their Do not carry list, I took along a printout of the MySQL Internals manual for my inflight entertainment.
Reaching there
The American consulate is located in Anna Salai. Once you get down at the airport, you will find a government operated prepaid taxi counter there. They will charge you 240 Rs. (rupees) for a taxi to the American consulate. The people manning the counter were able to understand english.
Since I was returning back to Bangalore the same day, I had not made any reservations in a hotel for my stay. The taxi driver knew the place and he dropped me infront of the consulate gate. The guards there guided me to the gate through which the visa interviewees had to pass.
Passing time
I reached the consulate by 0900 though my interview was at 1230. There was a average sized queue at the gate. I liked the queue managment system at the Chennai consulate. The guards called out the interview time that was mentioned in the appointment letter and people who were scheduled at that time moved ahead in the queue. Since my interview was scheduled atYou will 1230, I roamed around in the streets to pass time.
It is really a hard job to pass time in Chennai. There were no parks or malls in the nearby area. Since I did not know the city well enough, I did not want to wander far off from the consulate.
After killing nearly two hour, I got into the queue at 1100 hours. I was allowed into the consulate at 1300 hours.
Pre-screening of the documents
Once you are inside the consulate, you have to wait to have your passport, forms D156 and D157 verified. The officers check if you are missing something. They are quite efficient. You have chairs available once you get inside the consulate.
By the time I reached the pre-screening counter, it was already 1430. Unluckily for me, the photograph on my form was not of the correct size. The officer at the counter asked me to get a proper sized photograph and come back again in an hour.
There is a market near the consulate and the shopkeepers there understand english and hindi. I asked around and quickly located a place to have my photograph taken. It was a seedy place and the photographer charged me 200 Rs. for four correct sized photograph. My guess is that he charged me at least thrice the price I would normally have paid.
I hurried back to the consulate and showed the guards at the front gate that I had been rescheduled for my interview and I had originally been called aat 1230. He kindly allowed me to go in without waiting in the queue.
This time around I did not have a problem in the pre-screening part and they asked me to go in for my visa interview.
Visa interview
There was quite a crowd waiting for their visa interview. However, the queue managment was again good here and no one was complaining. There were enough chairs around, so waiting was not too much of a hassle.
You first had to get your fingerprint taken and then stand in a queue to have one of the officers interview you. I was quite apprehensive about the interview as I had heard quite a lot of stories about the randomness of the visa interviewers in rejecting the visas. However, I was quite surprised. The visa interviewers gave perfectly coherent reasons for the rejection of the visas. They were direct, but polite in their rejections. They asked pertinent questions and I do not think that hassling the visa interviewees was their aim.
When my turn came, I was asked a few question about why I was going to US and told that my visa has been spproved and I would receive it in 2-3 days

. I was quite happy and came out of the consulate. The process ended at 1700.
Back to Bangalore
My flight was at 2125. I killed time till 1830 and then took an autorickshaw to the airport. He charged me 150 Rs. and dropped me at the airport by 1915. I walked inside the airport, found an empty seat and tried to get some sleep. Since I had done lot of walking that day, my feet were killing me. I took off my shoes too and then tried to get some more sleep. Pretty soon the boarding for my flight was announced. I got into the the aeroplane, flew back to Bangalore and was back home by 2300.
All in all, it was a tiring experience, but a productive one.
Posted by Raj Shekhar in My take on life
Wednesday, February 21. 2007
I am sure I have heard these same divisons some place else, but I am not sure where. From what I remember, the speaker told us that imagine your life to be a circle and allocate each of these areas a portion of that circle. The area allocated to each of the areas should be proportionate to the time and energy you spend in that area. An ideal secenario would be that you have a circle in which all the areas are nearly equal.
Without much ado, here are the eight areas
Career/Work - In the ideal world, we all love our work. In the real world, we do not. Find a way to be grateful for your job, and useful. You will spend a lot of time at work, better to have a positive experience while there.
Creativity - This is where hobbies are important. Perhaps you are an artist? Find time to create. A great hobby is photography. You can do it as you walk through your neighborhood. It is also a great way to meet people, and to share experiences with others through your photos.
Intellectual - This is an area which is very neglected. It is important that you keep your intellect sharp. One way to do so is to read the newspaper on a daily basis. Or, dive into classic works of fiction, or poetry.
Health & Fitness - Get in shape and stay in shape. There is no substitute for a great diet either. These are critical for living a healthy, balanced life. People who eat right and are in shape have better attitudes than those who do not. If your body feels better, you will feel better.
Social - You need to spend time with your friends, relaxing and socializing. It is very important to have an active social life, as it keeps you connected and involved with the world. Also, having fun and sharing laughs helps you recharge intellectually and emotionally. Without an active social life, people tend towards depression and isolation.
Family - This can be sensitive for some people who experienced difficulties with their parents when they were younger. Your family can be a great source of comfort and connection, as well being supportive through difficult times. It is common for people to feel challenged in their family lives. However, growing through these challenges forges character and integrity.
Companionship & Intimacy - Ultimately, every person deserves a lasting, meaningful relationship. It can be both nurturing and challenging. Ultimately, it serves to help us be open to another person, and understand the nature of intimacy and love. Intimate relationships are important in any person's development. The result is a greater sense of ourselves, and a more fulfilling and happy life. Most of you reading this are probably looking for this.
Austerity - Lastly, each of us needs time alone. This is when we recharge and connect with ourselves, and our purpose. Perhaps this is when we indulge in our hobbies, or when we practice daily meditation. Spending time alone helps us reenter the world feeling refreshed and connected.
Posted by Raj Shekhar in humour, My take on life
Wednesday, January 10. 2007
Small list of stuff everyone thinks is cool, but I did not find them worth the price all the electrons had to pay
Second life - seriously people, what is so great about it that you are paying real world money for virtual stuff.
A-list Bloggers - some of them are a bunch of pretentious idiots. Enough said.
Orkut