This is a useful tool for people to check the status of a commercial flight using the tail number of the airplane, without the need to subscribe to any services. As a passenger, this is useful because you can see where the airplane scheduled to fly you is currently, which can help keep track of delays and cancellations.
The first step is to find the tail number of the flight that you are scheduled to take. Head to the airports page of flightradar24 and get to the page of the airport that you will be flying out of. For example, if you are flying out of Oakland, California, this would be https://www.flightradar24.com/data/airports/oak. On that page, click the "Departures" tab. This will give a list of flights, along with their tail numbers.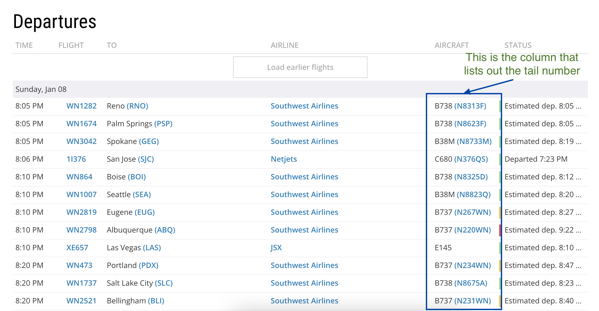 For example, assuming that you are flying on the 8:05 PM Southwest flight to Reno (WN1282), the tail number is under the "Aircraft" column (N8313F).
Once you have the tail number, you can use flightaware.com to track the schedule, current location, flight path. Just put the tail number into the search box. Another useful tool is airfleets.com, which can show complete airplane details, as well as links to adsbexchange.